Cozy Friedman, of our SoCozy haircare line, visited Kids' Hair Edina this week to hold 2 special dad-daughter braiding classes! Cozy has held braiding classes for moms at her salons in New York City for years, but after noticing an increased interest from dads, she decided to hold a special dad-daughter braid class and the response was huge! The New York Times even did a story about her class and the revolution #realmenbraid: http://www.nytimes.com/2015/07/09/fashion/showing-dad-the-ropes-about-braids.html?_r=0
Cozy held a class Monday evening with 7 dad-daughter duos! Check out the Star Tribune article and video about the class here: http://www.startribune.com/minnesota-fathers-get-a-crash-course-in-hairstyling-101/320626892/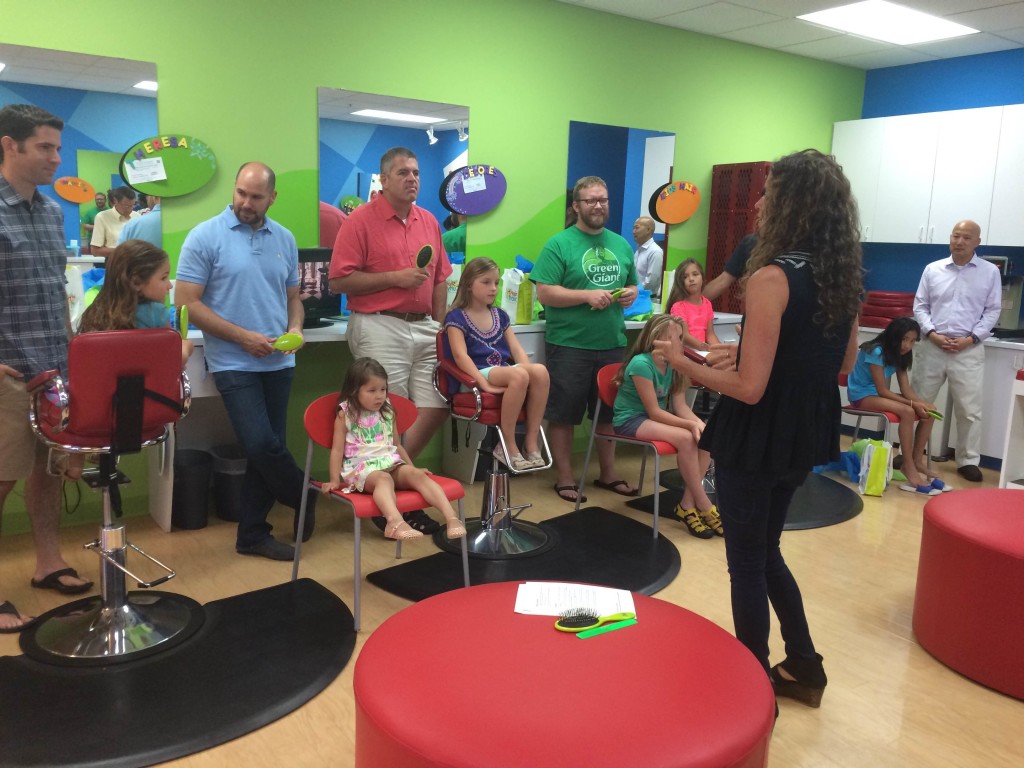 Then, Tuesday morning KARE 11 Sunrise featured the class on their Tuesday morning show. We had 3 dad-daughter duos who were willing to let their braiding skills be filmed for the show!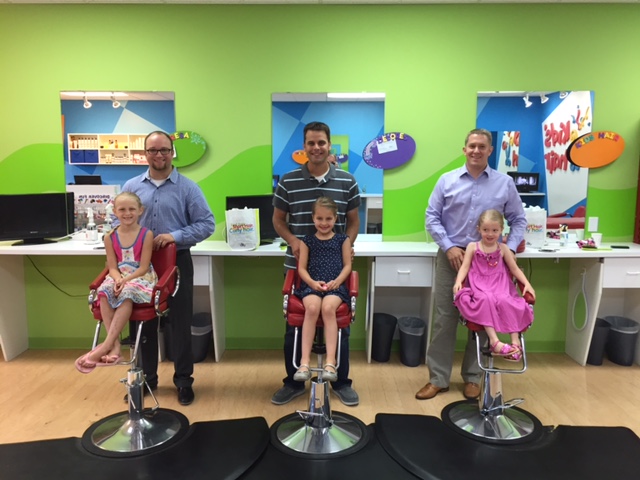 Check out how they did on the KARE 11 segments here:
http://www.kare11.com/media/cinematic/video/30455361/tips-for-dads-on-how-to-fix-daughters-hair/
http://www.kare11.com/media/cinematic/video/30455313/teaching-dads-how-to-braid-daughters-hair/  
To start the class off, Cozy first taught the dads how to detangle hair using her D.A.D. method:
Distract – Give the child a tablet, toy or book to keep them calm and distracted.
Arrange – Section off the hair, even just by hand, to work on one portion at a time instead of tackling the whole head at once.
Detangle – Using a wet/dry brush and SoCozy tutti-frutti Detangle + Leave-in Conditioner, spritz the sections and brush hair starting from the bottom and work towards the scalp.
For the next step, she had them put in a simple ponytail, reminding them to use gravity as their friend by having their daughters tilt their heads back to make it easier to gather and tie the hair. Once the pony was in, the dads did a simple 3-strand braid, using SoCozy Behave Styling Cream to help keep the strands in a group and make the braid look smooth and polished. Finally, to make it look really sharp, Cozy had the dads twist the braid around the pony and pin it in place to make a beautiful braided bun.
Not only were the classes a memorable father-daughter bonding experience, the dads came away with some great tips and a finished style they could do at home.
Kids' Hair carries So Cozy's complete line of haircare products. To find out more visit: https://socozy.com/product