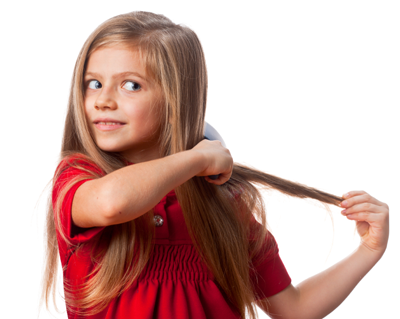 Dealing with tangles and snarls in your child's hair can be a tearful, frustrating and time-consuming task for both them and you!
To prevent tangles and snarls:
When washing hair, gently massage the shampoo into scalp and through the hair, do not vigorously lather the shampoo.
Use a leave-in conditioner such as Original Sprout and comb hair immediately after conditioning while hair is still wet.
After washing and conditioning, make sure to gently towel dry the hair, do not move the towel back and forth through hair.
For children with long hair, sleep with a loose braid in at night
To get rid of tangles and snarls:
Before combing, always start by spraying a good detangler generously through the hair.  We recommend Circle of Friends or So Cozy detangler.
Use a wide-tooth comb.  Start combing at the very ends of the hair and work your way up to the scalp slowly.