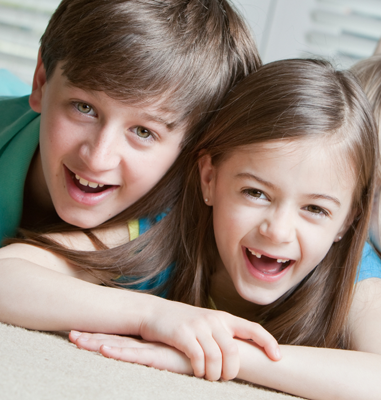 We don't just want kids to have great haircuts, we want kids to have healthy, strong and manageable hair.  Kids' Hair offers a child-focused service menu that includes hair issues that seem to stick to kids, literally.  All Kids' Hair Care Menu services are all-natural and chemical-free.
Malibu Treatment
At the pool often? Remove chlorine build-up with a Malibu Treatment.
    Safe and gentle for all ages/hair types, no harsh chemicals!
    Powerful antioxidants naturally remove chlorine, minerals and salts
    Leaves hair soft, healthy and strong
Conditioning Treatment
This treatment is perfect for dry, brittle hair or hair that gets tangled easily.
Strengthens hair and replenishes moisture
Makes hair more manageable to comb through, detangles
Leaves hair looking and feeling healthy
Gum Removal
Kids' Hair has an easy, pain-free process to remove gum from hair, don't worry, it doesn't involve scissors!  We use an all-natural gentle solution that dissolves the gum and allows us to comb it out.  The process is followed up with a clarifying shampoo.  No mess and no tears!
Lice Defense and Elimination
Kids' Hair offers complete lice solutions.
Defense
We carry a variety of lice preventative products that contain Tea Tree and other essential oils that help keep lice away.  Ask our stylists what they'd recommend and for usage instructions.
Elimination
Kids' Hair is proud to partner with Ladibugs, Inc, a Minnesota-based company that specializes in chemical-free lice removal.  We carry all Ladibugs elimination products, including the elimination kit.