Summer is almost here!  That means beach days, swimming lessons and pool parties!  While all those activities sound like fun, they can be very damaging to hair.  Chlorine especially loves children's fine hair and build-up can make hair tangled, brittle, sticky and even turn hair green!  Keep their hair healthy and manageable all summer long with help from Kids' Hair!  We carry effective, safe and gentle products that are made for kids who love to swim.  We also offer an in-salon Malibu treatment that naturally removes chlorine, minerals and salts.  Who needs a Malibu Treatment?  For kids with longer hair that swim multiple times a week, a Malibu Treatment once a month can really help reverse and prevent damage.  For the casual summer swimmer, getting a treatment before back-to-school is a great way to ensure healthy, soft hair and restore moisture before that fall dry air and wind makes dealing with snarls and tangles too difficult.  Want to learn more about the swimmers products we carry?  See below for details: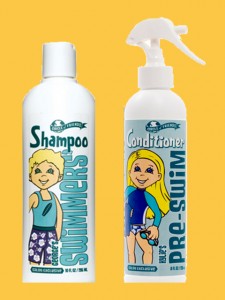 Circle of Friends – Kylie's Pre-Swim Conditioner
Great for long hair, an exclusive blend of moisturizers and vitamins that prevent  pool chemicals and salt water from penetrating hair.  Just spray liberally on hair and comb through before swimming.
Circle of Friends – George's Swimmer's Shampoo
A gentle, tearless and clarifying shampoo, perfect for toddlers.  Great shampoo to use right after swimming and day-to-day throughout the summer.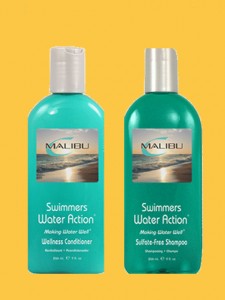 Malibu Swimmers Water Action Shampoo and Conditioner
Safe for all hair types, gently cleanses hair and scalp while removing build-up from pool chemicals and hard water minerals.  Leaves hair very soft and manageable, great for kids who swim multiple times a week.  Can be used on swim days or day-to-day in the summer.